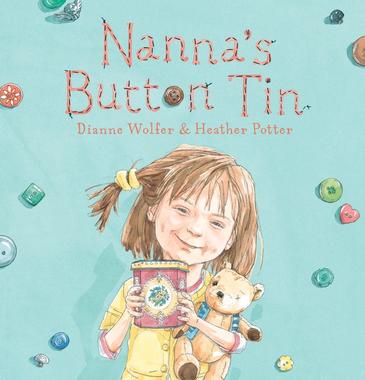 Nanna's Button Tin
by Dianne Wolfer illustrated by Heather Potter
Reviewed by Inda Ahmad Zabri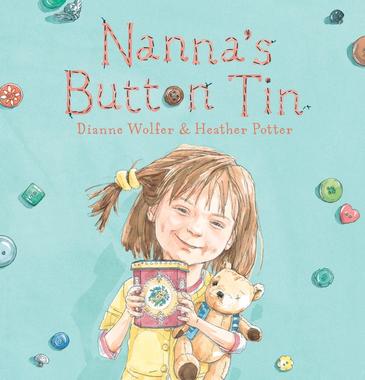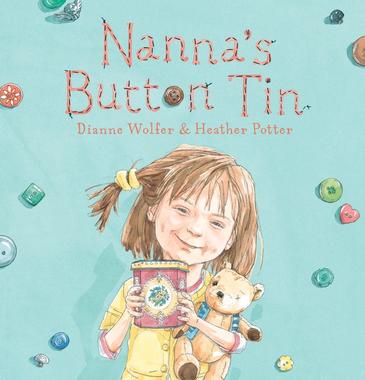 A little girl is on a mission to find a button to replace Teddy's lost eye. It has to be just the right shape, the right size and the right colour. As she tips Nanna's button tin out on the floor, they sift through precious memories, prompted by pieces of plastic and silver that mark a baby's homecoming, an important birthday, an illness and an old love.
The story moves seamlessly from one milestone to another, thanks to the clever narration and vivid illustrations. Heather Potter has done an amazing job of infusing earnestness and curiosity to the gestures and expressions of the six-year-old girl, which really brings the story to life. She has also captured a poignant tenderness between the girl and Nanna as they examine their mementos. The scenes from the past are lavishly detailed, so much so that one can appreciate the depth of emotion – celebration, first love, care and prayer – from the open spread.
Dianne Wolfer has crafted a clever and heart-warming tale that would fit into the lives of any little girl or boy lucky enough to have a Nanna in their life to look through buttons and tell fantastic stories. It is a wonderful book to read with one's loved ones, and is sure to evoke beautiful memories, or perhaps even inspire new traditions, keeping alive family moments to treasure forever.
Created with love and warmth, Nanna's Button Tin is unsurprisingly a 2018 CBCA Notable Book for the Early Childhood category.
Walker Books Australia 2017 hardback 32 pages $24.99 ISBN 9781922077677