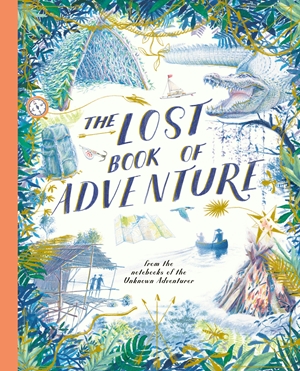 The Lost Book of Adventure
edited by Teddy Keen
reviewed by Mia Macrossan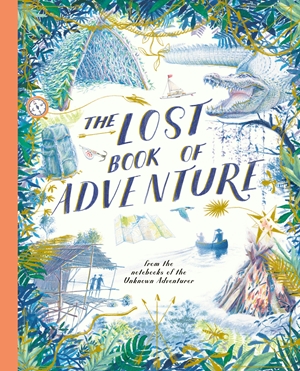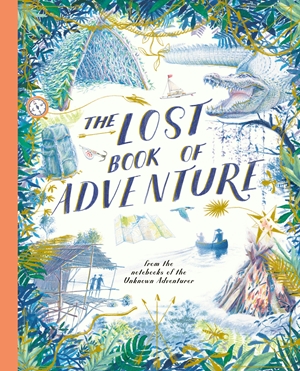 The Lost Book of Adventure – what a marvellous title – purports to be 'from the notebooks of the Unknown Adventurer', a person who traveled the globe and had spent most of his time out in the wild. It is an absolute treasure trove of practical and inspirational detail inviting the reader to go out and explore the world outside.
'When you next feel the wind brush by, think about where it has come from and where it goes… If you listen hard enough, you hear its whisper. It is the quiet call to adventure, asking you to step into the wild.'
The book contains the unknown explorer's lifetime's worth of knowledge -with detailed instructions for living in the wild and a few tales of his own thrilling adventures to whet your appetite. These include being dragged away by a hyena in Botswana and woken up by an emperor penguin in Antarctica.
It is arranged in five chapters – Camp Wild tells you how to do just that and also how to make a survival tin, how to make a fire, suggestions for desperate meals, and more. Rafts is a whole chapter about the making and sailing of all kinds of 'buoyant structures or other materials fastened together, used as a boat or a floating platform'. It is full of practical illustrations and instructions. Shelters, Dens and Tree houses tells you how to create something to sleep in no matter what part of the world you are in. Exploration– tells you how to climb a mountain, how to plan a bike adventure, a canoe trip, how to catch a fish and more. Finally, a chapter on Useful Knowledge – how to make snowshoes from tennis rackets, a candle from a crayon, a wild toothbrush and 10 things out of duct tape as well as what to include in a first aid kit, information about rope and knots and more.
Copiously coloured line drawings illustrate and inform as much as the carefully worded captions. The language is descriptive, easy to read,  appealing often to the imagination and with a flair for making the exotic accessible. Each chapter is preceded by a gorgeous double page spread with an inspirational message. My favourite is the first one  –'The Universe belongs to the adventurous'.
This attractive book is an absolute delight for armchair adventurers as well as chock full of practical sensible advice and encouragement for those keen to get out and explore the world. A wonderful present for any child and a useful resource for any library.
Quarto Group UK 2019 Hardback $35.00 192 pages Age 7 – 70 ISBN 9781786032966