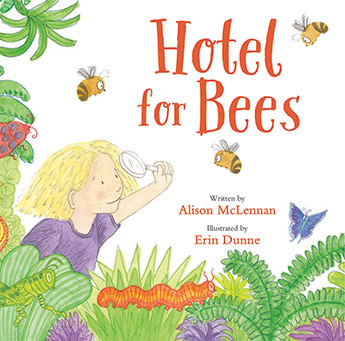 Hotel for Bees
By Alison McLennan 
Illustrated by Erin Dunne
Reviewed by Mia Macrossan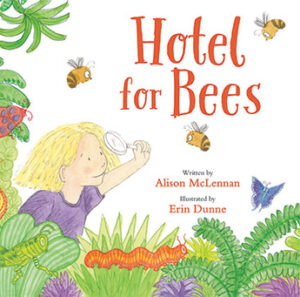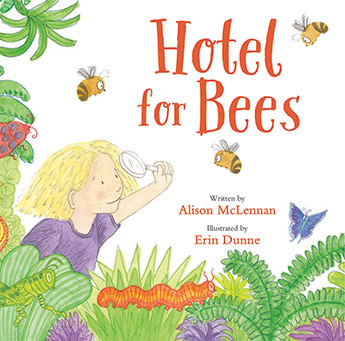 Alison is a Queensland children's writer, author of the graphic novel A Flood in the Village. Erin is an artist and arts educator based in Central Queensland. In her work she attempts to capture and distil a poetic and narrative sense of what it means to live in Central Queensland.
Hotel for Bees is one of the twelve new picture books for Queensland's youngest readers published as part of First 5 Forever, an early literacy program  initiated by the Queensland Government and coordinated by the State Library of Queensland.
Benji doesn't like fuzzy flying things and when he is scared by a bee in the kitchen his big sister Charlotte stops him squishing it just in time. 'Bees are the magicians of the sky' she says.
Charlotte checks in her library book Native Bees of Queensland  and finds out it is a Teddy Bear Bee. Such a thoughtful touch to go to a library book not the ubiquitous Google. Together, Benji, Charlotte and Dad decide to make a bee hotel for the bee, which has been christened Teddy by Benji.
This book is just charming. We see them getting all the materials together to make the hotel after first making a list. They have a treasure hunt in Dad's shed but do have to go to a giant hardware store for some extra items.
They hammer, paint, gather sticks and twigs, each has their own job to do. Finally Teddy enters his new home and soon has company, Mr Fuzzy Feet, Mrs Bumbles and Trevor among them. Benji has definitely changed his mind about bees.
Thoughtful writing and joyful colourful illustrations, starting and ending with the magnificent endpapers combine to make this one attractive package. Hotel for Bees is  a warm celebration of family, building things together and doing our bit for the environment.