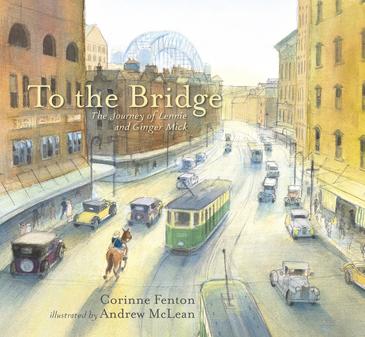 To the Bridge: The Journey of Lennie and Ginger Mick
By Corinne Fenton
Illustrated by Andrew McLean
Reviewed by Annaleise Byrd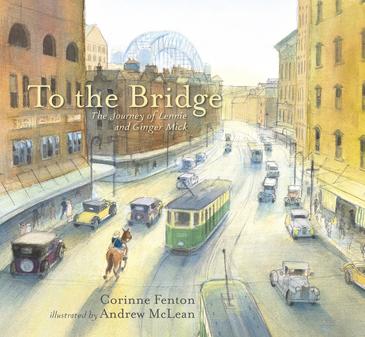 Corinne Fenton is an established picture book author with an affinity for animals and research, while Andrew McLean's lengthy illustration career includes many titles bestowed with CBCA accolades. Clearly, they are a dream pairing for the task of crafting a narrative nonfiction picture book about Lennie Gwyther, an Australian icon who, in 1932 at the age of nine, travelled six hundred miles on horseback to witness the opening of the Sydney Harbour Bridge.
The story opens with scenes of Depression-era life on the land. Then, when an injury lands young Lennie's dad in hospital, Lennie's responsible nature is demonstrated by the variety of farm tasks he takes on—from wood chopping to milking to ploughing. Upon his father's return, Lennie, who has followed with awe the construction of the Sydney Harbour Bridge via the newspapers, requests permission to ride his pony, Ginger Mick, to Sydney for the opening festivities. His father agrees.
The rest of the book follows Lennie's month-long solo ride. He encounters a bushfire, shakes hands with the Prime Minister and is housed by families along the way. McLean's pencil and watercolour illustrations featuring a rural Australian palette of browns and greens beautifully complement the historic tale, and there are some gorgeous double page spreads (including the endpapers) to pause and appreciate. The story ends with Lennie arriving in Sydney and gazing at the bridge in the distance.
When I researched Lennie online, I learnt he was met by a cheering crowd of ten thousand—no doubt a result of frequent newspaper updates on his whereabouts having captured the nation's imagination. This scene is not shown in the book—perhaps in order to preserve the simple focus on 'a boy and his dream'—and the story is probably more quietly satisfying as a result. However, I would have loved to see this detail included in the brief back matter alongside the photos of the real-life 'Lennie the Legend'.
Modern readers will enjoy this touching true story of courage and perseverance… and will marvel at an era when a journey like this could (realistically and legally) be undertaken by a nine-year-old!
Walker Books 2020