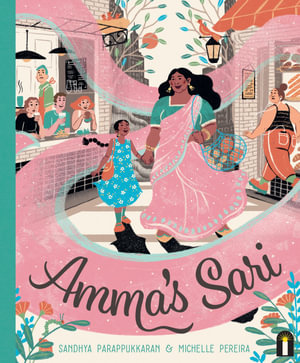 Amma's Sari
By Sandhya Parappukkaran
Illustrated by Michelle Pereira
Reviewed by Mia Macrossan
This is the second book by this creative team who produced the CBCA Notable book The Boy Who Tried To Shrink His Name, about a boy whose very long name causes him embarrassment. Amma's Sari is also about social discomfort, this time it is caused by a mother wearing clothing from her original homeland in her adopted country.
Shreya adores her mother who always wears a colourful sari,  but she is made uncomfortable when she notices the attention her mother attracts from passers by when they are out.  Her mother doesn't care saying 'My sari is a memory of a faraway place'. Shreya tries to match her mother's confidence but often falters. However, when Shreya gets lost in a crowd, it is her mother's bright sari that helps her find her way back.
Michelle Pereira has done a wonderful job of making the sari billow and swirl along the street as if it has a life of its own. At its most basic, a sari  is made from a piece of material that's about 114 cm wide and can be over 8 metres long. This particular one, in Shreya's eyes at least, is beyond long, catching everyone's eye and dominating the scene wherever her Amma goes.
Children are very sensitive about fitting in and not standing out and what one's parent wears can be crucial in feeling accepted. This story has brought back a long buried childhood memory of a  hideous long brown coat my mother used to wear when picking me up from school…oh the agony of embarrassment. But in this case the garment causing the distress is an elegant pink sari.
Kudos to Pereira for choosing the softest, loveliest colour imaginable. Normally I am not a fan of pink books as they tend to shout 'for girly girls only'. While pink dominates the colour palette there are many other gorgeous rich colours throughout, starting with the endpapers where a  prosaic peg basket hangs in the middle of a lush jungly garden framed by Indian woodwork.
Amma's Sari has one of the pinkest covers I've seen and it is absolutely gorgeous. The colours are  delicate and attractive, perfectly complementing this sensitively told tale of love and acceptance, the whole notable for its careful nuance and delicacy of feeling. I am sure it will appeal to a wide readership.