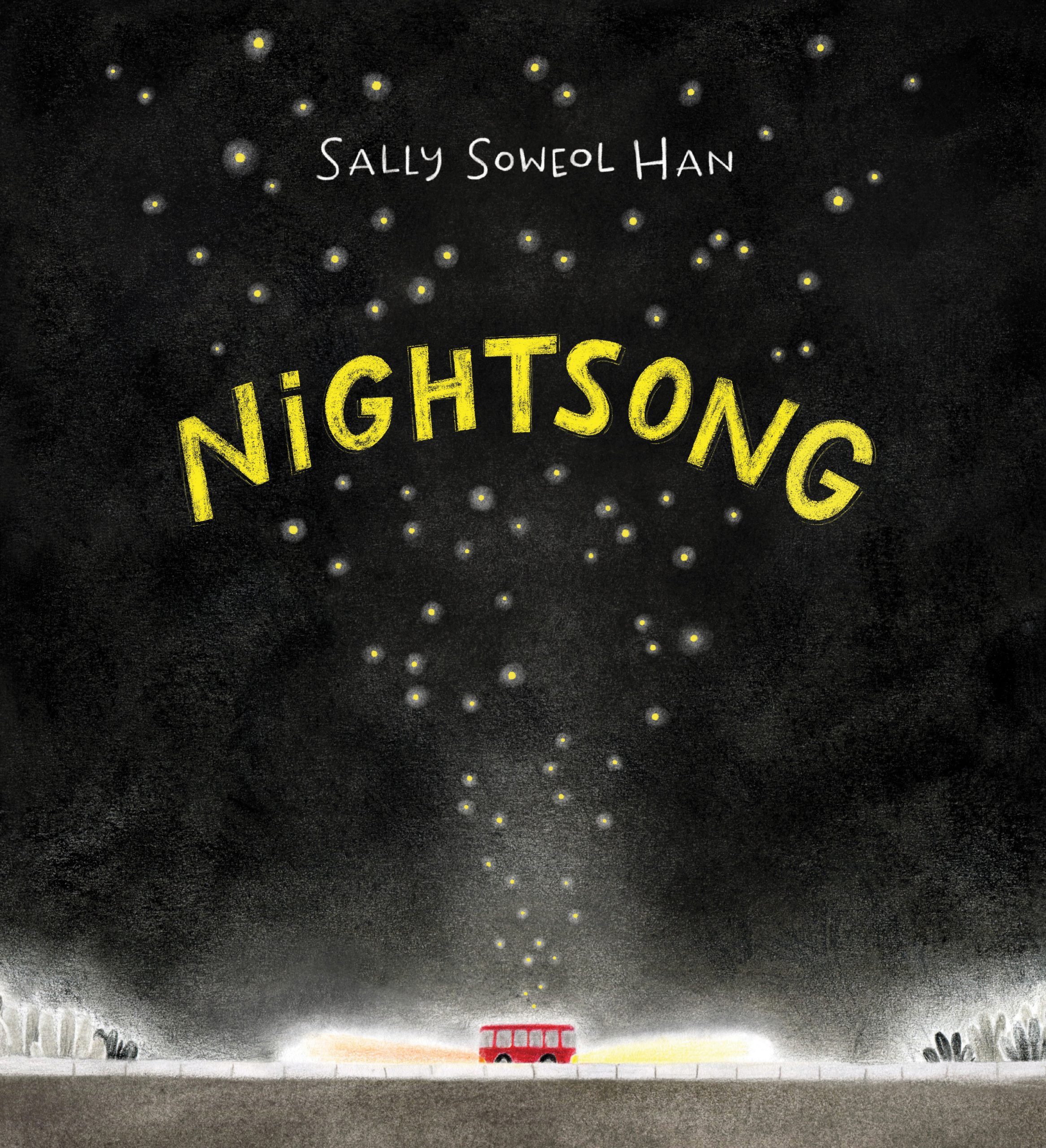 Nightsong
By Sally Soweol Han
Reviewed by Sandhya Parappukkaran
Australian-Korean author and illustrator Sally Soweol Han, who won the 2023 Children's Book Council of Australia New Illustrator award for her beautiful picture book Tiny Wonders, has created another book of wonders.
In Nightsong, Han brings to life the soundscape of nighttime. The story begins in the busy, noisy city where Lewis is visiting with his mum. The city dons a colour palette of black, grey and white, except for the noise makers, which include a yellow car honking, purple pigeons chirping and dark blue traffic lights tick-ticking, among other things.
At the end of the day, Lewis and Mum catch the bus back home, away from the city. But when the bus stops on the side of a country road due to a flat tyre, Lewis gets bored. Maybe his game runs out of charge or maybe it's the firefly buzzing nearby that has caught his attention. Slowly, slowly, Lewis starts to listen to the sounds around him and he ventures into the fields which seem to lie dormant, grey and quiet.
Lewis discovers a whirr of activity. Han uses soft colours to highlight the nocturnal hustle and bustle. The text bumbles along with creaking branches, hooting owls and more. Upon quiet reading, you may hear chirping crickets and a burbling creek in your mind thanks to the clever use of onomatopoeia and colourful movement of nighttime creatures against the dark backdrop. Lewis watches in wonder and listens to the busy chorus while still following the firefly. Where might it be taking him? The reveal is on a stunning double page spread full of sparkling fireflies. Soon it is time to get back on the bus. Mum settles in to sleep but Lewis's head is full of wonder and night song.
Nightsong is a nudge to stop, listen and appreciate. This gentle but lively story reminds readers that where things might appear dull and boring, it's the act of paying attention that uncovers the beauty of nature.