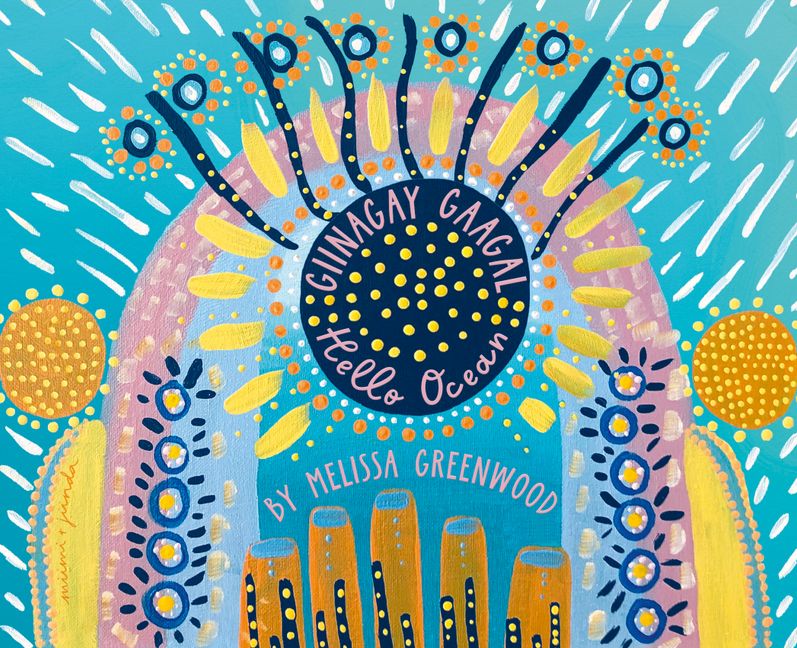 Giinagay Gaagal (Hello Ocean)
By Melissa Greenwood
Reviewed by Mia Macrossan
Melissa Greenwood was born on her Gumbaynggirr jagun (homelands) in Coffs Harbour and raised between both Gumbaynggirr and Bundjalung nations. On Melissa's matriarchal side, she is a Gumbaynggirr custodian with strong ties to Bundjalung and Dunghutti. Her father's side has English and Welsh heritage. Melissa was raised by her single Aboriginal mother so identifies strongly with her Aboriginal heritage and is a miimi (mum) of two beautiful giibarrin (boys).
She is the creator of two other picture books: Mimmi Marraal, Mother Earth and My Little Barlaagany, both reviewed in StoryLinks.  In Giinagay Gaagal (Hello Ocean) she has described an archetypal day at the beach, filled with activities that people have been enjoying for thousands of years.
It starts with  'eyes open to the morning light' followed by looking forward to swimming and catching fish. After paying their respects to the land they  gather bush fruits, dance in the sand and gather pipis intended for a stew that evening. They see whales, dolphins and crabs as they collect seaweed and sticks, build a fire and a shack for shelter from the heat of the day. When the sun is low they eat after which, tired but happy, they go home.
The back matter includes a version of the story written entirely in Gumbaynggirr and one in English and a page with information about the author.
The artwork complementing this story is spectacular, starting with the wavelike endpapers. Each page is a feast of colour, with bold black used for emphasis, inviting the young reader to explore, comment and maybe reflect on their own experience of a day at the beach.
Melissa says: 'This book is inspired by my life growing up Goori on Country and all the adventures we would get up to with family.'
A book that will bring back happy memories of beach days for everyone.