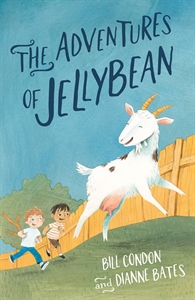 The Adventures of Jellybean
Written by Bill Condon and Dianne Bates
Illustrated by Lucia Masciullo
Reviewed by Rebecca Sheraton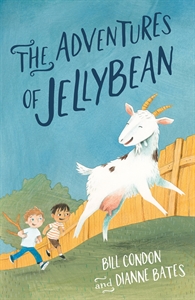 Co-authors Bill Condon and Dianne Bates have written a delightful early chapter book for ages 6 and above, published by the University of Queensland Press.
Eight-year-old best friends, Rory Hunter and Trang Nguyen live next door to each other in a farming area and do everything together. After Trang suggests it would be better for a goat to eat all the grass, rather than mow it, both Rory and Trang's family agree to them getting a pet goat. Rory, his sister Luna and Trang name their goat Jellybean and become her primary caregivers. Except Jellybean isn't the best behaved goat and keeps the whole neighbourhood awake when she bleats through her first night, upsetting Mrs Herman who puts in a noise complaint. Rory and Trang do everything they can to train Jellybean and help her settle in, however life with Jellybean is never boring as she adds much mayhem and surprises to the boy's lives.
This book really has a fun slice of life feel to it, as the boys and Luna become pet owners and learn how to look after Jellybean. The challenges within the story are realistic and are age appropriate for the audience and characters. Some obstacles include who will take Jellybean to the school pet parade and even dealing with upsets in the friendship between Rory and Trang.
Diversity and technology are handled well in this book. Diversity is very naturally woven into this story through Trang's family who include his parents and his grandmother, who migrated from China 30 years ago. Rory and Trang even responsibly text each other in a short exchange.
The illustrations by Lucia Masciullo capture the enchanting tone of this book.
The Adventures of Jellybean is a charming short chapter book and would be suitable to introduce to confident readers past the heavily illustrated beginning early readers. The content is suitable for all children and they will relate to having to care for a pet. The most winning ingredient is the joyous tone the book captures with the addition of Jellybean in the lives of the families.
University of Queensland Press 2018 Paperback $ 14.95 169 pages Age 6+ ISBN 9780702260001