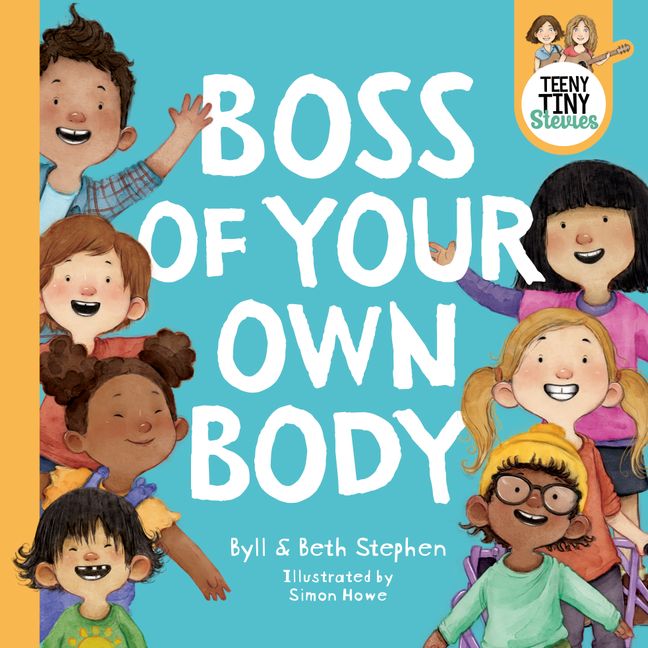 Boss of Your Own Body
Written by Byll and Beth Stephen (Teeny Tiny Stevies)
Illustrated by Simon Howe
Reviewed by Claire Monsour
Sisters Beth and Byll Stephen are best known for the music group 'The Little Stevies', and their children's band 'Teeny Tiny Stevies'. Their popular children's songs, with accompanying videos from long time collaborator Simon Howe, have thousands of views online, as well as over ten million views on ABC iView (teenytinystevies.com). Now the lyrics to their most popular songs are published in picture books, to follow along with the songs or be enjoyed on their own.
"You're not the boss of many things, because you're little and still learning… You're not the boss of anyone else… But you ARE the boss of one thing – you are the boss of your own body! And YOU get to decide". These simple but powerful words, along with Howe's engaging illustrations, reinforce an important message to children these days: you can choose if you give someone a kiss, or hold someone's hand, or hug someone – it's up to you!
With body awareness and self-advocacy being such prolific messages these days, parents and teachers will appreciate the humour that comes from lines in the story about bossing around friends and family members, as well as the clarification of when children don't get to say no; for example, listening to parents' directions, doctor's examinations and safety instructions.
It's refreshing to share a story with children about body boundaries that doesn't include terms such as "body bubble", but instead reinforces with appropriate language and natural examples that 'touch' is a choice that everyone makes, and the decision is up to you.
The Teeny Tiny Stevies also have published Sleep Through The Night (2022) and Family: All That You Dream It To Be (2022).