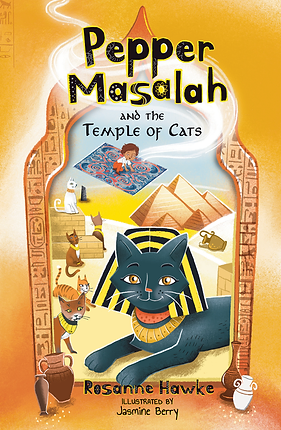 Pepper Masalah and the Temple of Cats
By

Rosanne Hawke
Illustrated by Jasmine Berry
Reviewed by Mia Macrossan
Rosanne Hawke is a prolific author of children's books, many of which  explore cultural and social issues. Notable titles include Shahana: Through My Eyes and Taj and the Great Camel Trek.
This sequel to

Pepper Masalah and the Flying Carpet

has the same characters, Pepper and Zamir who find themselves travelling on the magic carpet back in time to Ancient Egypt. They land on a floating log in the river which turns out to be a crocodile and Pepper only just escapes being lunch, unfortunately the carpet floats away.
They are rescued by a young Egyptian girl, Tabia who takes them to a temple where cats are honoured. Pepper is chosen to become a mummy, and things start to get quite desperate. After a lot of struggle and excitement Zamir and Pepper manage to get back to their carpet and make their way home to Australia in the present time.
This is a story for people who love adventures set in a magical past with a talking cat as a main protagonist. Ancient Egypt is always a popular time and place and who doesn't love a flying carpet?
Pepper Masalah and the Temple of Cats is perfect for children just developing confidence in reading, the chapters are short, the print is big and there are lots of black and white illustrations in a short novel of 126 pages.