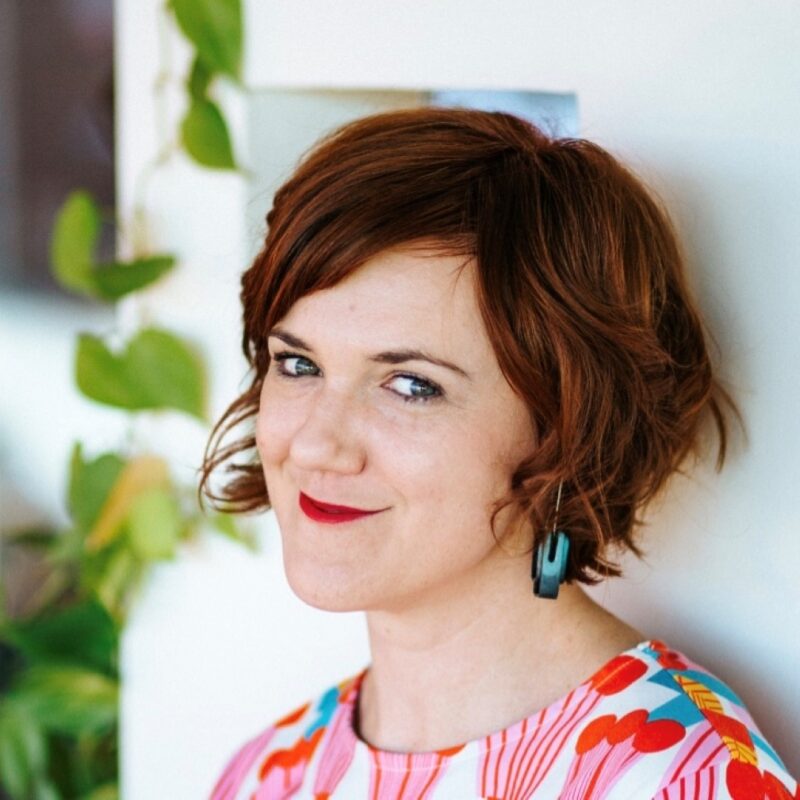 StoryLinks interviews Claire Zorn
Claire Zorn talked with Margaret McKay-Lowndes about her latest book When We Are Invisible and a writing life.

Claire Zorn is the author of three highly acclaimed novels for Young Adults, as well as a picture book for children entitled No Place for an Octopus. Her first young adult novel The Sky So Heavy, was an Honour Book for Older Readers in the CBCA Book of the Year Award, among other honours. Her second novel The Protected, was the winner of four prestigious awards. One Would Think the Deep was awarded the 2017 CBCA Book of the Year for Older Readers. Claire lives on the south coast of New South Wales with her husband and two sons.
You are the award-winning author of several YA books. Can you describe for us what it feels like when your book rises to the top of an awards long list?
Sometimes with a new book it feels like you are releasing it out into space in the hope it will land somewhere. When a book receives that kind of recognition it's wonderful.
When We are Invisible is the sequel to The Sky so Heavy. Did you develop the story for these two books at the same time, or did the second story emerge after the first one was finished?
The second story didn't emerge until six years after The Sky So Heavy was released – it took a long time for me to feel like it was worth picking up those threads again.
The two books explore the human response to a grave and threatening catastrophe. Was it a conscious decision to make the catastrophe a nuclear winter, a phenomenon which is disputed, rather than focus on conventional scientific wisdom about climate change? Do you think that by making it about nuclear winter, this places the emphasis upon the human response, rather than the catastrophe itself?
I didn't set out to write a book about a catastrophe, it was a tool to put characters under extreme pressure. I wanted to suddenly turn the world upside down. I've always had a bit of a fear/fascination with the concept of a nuclear winter, so I think I just instinctively went there.
Did you read other books about world-changing catastrophes in preparation for writing this book? Which ones?
I would never read other fiction about catastrophes because I'd want all the ideas to be my own. I did read a number of scientific articles about nuclear winter and look at some data modelling. That said, I also took a number of artistic liberties for the sake of the plot.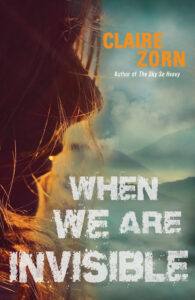 A major theme of When We Are Invisible is the powerlessness that society inflicts on women through gender role stereotyping and the intimidation of some men. What inspired you to explore this theme?
I'm thirty-nine. I'm over the crap women have to put up with, I wanted to portray it as a kind of protest, but also to open the eyes of young male readers who might be oblivious to a female's experience of the world.
Violence is another theme explored in some depth. Lucy's actions in saving Fin's life return to haunt her throughout the story. Is our response to violent situations part of what defines our essence as humans? Was it important to you to make a statement about violence through your novel?
I never set out to make a statement about violence, it organically presented itself as a theme.
The character pairings of Jaxon with Esther and Fin with Lucy provide a stark and striking contrast, and yet the characters are original, authentic and complex. All of them display both compassion and violence at different times during the novel. Is this characterization difficult to achieve?
It takes time and patience and a conscious effort to avoid stereotypes.
In writing a novel, where does characterization start? Are you inspired by other fictional characters? real people that you know? something else?
It's never fictional characters because the character would never feel like a real person – they would feel like a copy of a copy. That said, I realised a long way into the writing of this book that the way Lucy would steel herself and refuse to be intimidated was a little like Elizabeth Bennet in Pride and Prejudice. Lucy was difficult because she was originally a secondary character and now I really had to get inside her head. Finding her song was the key. I've finally worked out (it's taken a long time) that I use music a lot when it comes to creating the essence of a character, it might be a specific moment in a song or a couple of lyrics or just the conceptual tone of the song. There's an Amanda Palmer song called The Ride and when I heard it for the first time it was like Lucy was singing it.
I would imagine that writing demands a high level of discipline in the daily routine. Can you describe your writing schedule? Do you have somewhere special where you go to write?
I've always treated it as a job, I get dressed as if I'm going to be leaving the house and I turn up at my desk at nine AM whether I feel like it or not. I'm lucky enough to have a study. And I always keep a log of how many words I write in a day because sometimes you feel like you're going nowhere and it's motivating to look back and see that some form of progress is being made.
StoryLinks is a website devoted to promoting children's books. Were you an avid reader as a child? Are there any children's books which are etched in your memory?
There were definitely picture books which stuck with me, particularly There's a Sea in My Bedroom by Margaret Wild and There's a Hippopotamus On Our Roof Eating Cakeby Hazel Edwards. Now that I think about it, they're both about kids with wild imaginations. I think I identified with them.
Your writing is imbued with a gritty realism even within an imaginary dystopian scenario, and you have ventured into an early childhood picture book with No Place for an Octopus. Have you thought about writing books in other genres, say fantasy or historical fiction? perhaps for a younger or older audience? What's next for Claire Zorn?
I've been working on a novel for adults for a long time, now I'm finally giving it all of my attention. I've spent thirteen years writing for young adults and it's starting to feel stale, I need a really big break from it. I'm also working on a screenplay on the side, which feels like a more natural medium for me because I'm a visual thinker and I love writing dialogue. I would love to do another picture book at some point. There's just so much to do!
University of Queensland Press 2021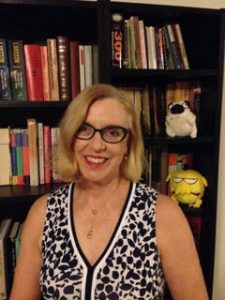 Margaret McKay-Lowndes has spent many years working in Education, first as an English/History teacher, moving onto Teacher Librarianship, completing her Master's degree in 2007. She has taught at all levels of the Education system, including Primary schools, Secondary colleges, and TAFE. In all contexts, her interests have focused on language and literacy and the particular contribution that reading for enjoyment and learning makes to educational outcomes, and the role of the school library in achieving those outcomes. During her transition to retirement, Margaret has undertaken a role as Judge for the Younger Reader category for the Children's Book Council of Australia Book of the Year Award. She has also assisted in the judging of the inaugural Storylinks award for Historical Writing for Children. She works at Speakers Ink literary agency, producing the newsletter, and participates in several book clubs, reading widely from all genres in the spheres of middle grade, Young Adult, and literary fiction for adults. Margaret is a book reviewer for Storylinks and Magpies magazine and is happy to be contributing in the world of literature for young people.