Unleash Your Creative Monster: A Children's Guide to Writing
By Andy Jones & Olaf Falafel
Reviewed by Barbara Braxton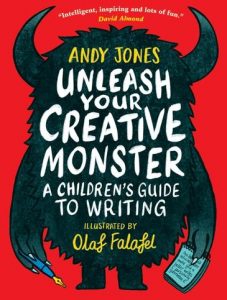 Over my 50+ years working with children, and particularly following my passion for developing their literacy skills, I have been exposed to as many "magic bullet" pedagogies for getting them to write well as there are theories of child development.  From a tightly structured approach where the writer is given topic, genre essay-length and limited vocabulary and the entire focus is on the product (often returned covered in red pen) to the revolution of the freedom of Donald Graves' 'process writing" where the expression of ideas is the critical element – his books are still on my shelf – and back again, the one constant is that putting pen to paper is an individual task, and the 'best' approach is as unique as the individual doing the writing.
Some find writing to be their preferred way of expressing themselves, others like to sing, dance, paint or just talk. Of the writers, some like to write fiction, others prefer mon fiction; some like to draw first, others loathe drawing; some like to let the thoughts run free and edit at the end, others like to fix as they go… 
So this book is not a one-size-fits-all that a parent can give to their child and envisage another J. K. Rowling; nor is it a step-by-step guide for a teacher to follow as their writing syllabus for the year; and it is certainly not a tool to teach all those obscure technical terms and techniques so beloved by today's English teachers and curriculum writers. What it is is a guide for those who already like to write to help them hone their skills and develop their ideas. Begun as a way to amuse the author's daughters on wet days, it presents a monster as a muse – because monsters are "exciting, unpredictable, powerful" – and by speaking directly to the reader, they are encouraged to work through the book (or dip and delve if they choose) engaging in a series of exercises and story prompts to learn the basics of stories, developing characters, settings and plots as they develop their vocabulary – all the fundamentals of story writing but at their own point of need and their own pace.  There is even a section about beating writer's block. 
With its easily accessible text and myriad of cartoon-style illustrations it takes the would-be writer on a personal journey of development, tapping into their existing desire to write rather than imposing the task on them.  However, while it is not that do this-do that guide for the busy classroom teacher, it is one that is more than worthwhile having because it offers explanations and explorations that the teacher (who may not, themselves, be a natural writer) can then pass on to the student to encourage them to try new things, to delve deeper and expand their horizons.  It encourages originality and diversity rather than the cookie-cutter approach and there's none of that technical jargon in sight.
Being the child of journalists, I could use a typewriter before I could use a telephone and it was expected that both my brother and I would be able to put words on paper as easily as we spoke. But even in such an environment, one of us went much further than the other and neither of us wrote in the style of our parents.  Certainly, my preferred writing genre is non fiction and mastery of my imagination to write fiction eludes me.  But with this book in hand, perhaps I could try again and find a new path…
Walker Books, 2021