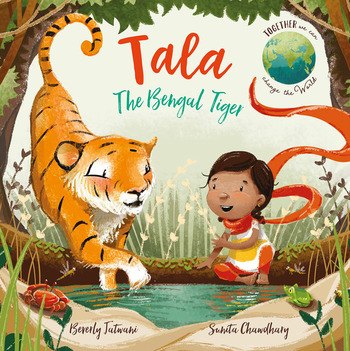 Tala The Bengal Tiger
By Beverly Jatwani
Illustrated by Sunita Chawdhary
Reviewed by Margarite Igras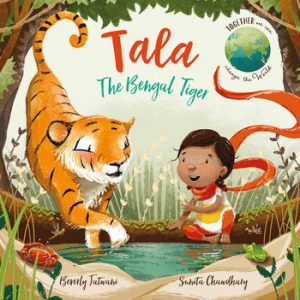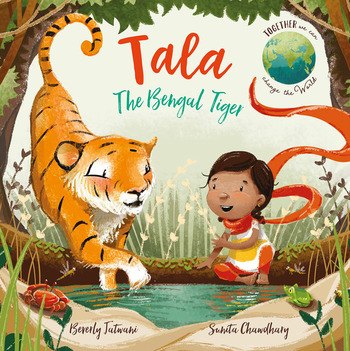 This is the second book in the Together we can change the world series.  Beverly Jutwani has woven her Indian heritage of spices, village life, and the night sound of wild animals, into a story set in the Sunderban mangrove forest of India. It highlights the plight of the Bengal Tigers as their environment is encroached upon by land clearing, climate change and human expansion. The story also deals with having courage and overcoming fear.
Veema is nine years old. She lives in a village of mud houses fenced with fishing nets on bamboo poles. Her mother retells the story that on the day Veema was born, a Bengal tiger cub appeared outside the window. This was taken as a sign, that it was there to protect the baby. As Veema grew, she often heard the roar of the tigers, and thought about her cub, which she named Tala. She was fearful of the tigers but felt a need to protect them.  Then, on her 10th birthday, she had an unexpected encounter with Tala which reminded her about the meaning of her name – courage.
Bright animated illustration crowds each page with simple detailed drawings. Each page gives us details about this family, their culture, and their part of the world – from the family asleep on the mud hut floor, with all the animals, and insects outside, to village life with board walks, lush forest, and birdlife. .
Each page has only a few lines, but is laden with visual information. The ferocious tiger as it lunges is illustrated in bright crayon, so the fear is measured for younger children.
The fact page at the end of the book has some important sobering information about the tigers.
This story lends itself to discussion about the protection of our endangered animals and touches on the mystical relationship the villagers have with these majestic animals.